Oct 15
Today is
Global Handwashing Day
. Wash your hands!
On this day in 1783, the Montgolfier brothers' tethered hot air balloon
marked the
first human ascent
, by Jean-François Pilâtre de Rozier.
One hundred years later, on this day in 1863, the
H. L. Hunley,
the first submarine to sink a
ship, sank during a test, killing its inventor, Horace L. Hunley.
On this day in 1888, the
"From Hell"
letter widely believed to have been sent by
Jack the Ripper
, was mailed.
The letter was addressed to and received by
George Lusk
, then head of the Whitechapel Vigilance Committee, the
following day.
From hell

Mr Lusk
Sor
I send you half the Kidne I took from one women prasarved it for you tother
piece I fried and ate it was very nise. I may send you the bloody knif that
took it out if you only wate a whil longer

signed
Catch me when you Can Mishter Lusk.
George Lusk, President of the Whitechapel Vigilance Committee.
The reason this letter stands out more than any other of the several letters
supposedly from Jack the Ripper is that it was delivered with a small box
containing half of what doctors later determined was a human kidney,
preserved in ethanol. One of Catherine Eddowes' kidneys had been removed
by the killer. Medical opinion at the time was that the organ could have been
acquired by medical students and sent with the letter as part of a hoax. Lusk
himself believed that this was the case and did not report the letter until he
was urged to do so by friends.
The original letter, as well as the kidney that accompanied it, have subsequently
been lost along with other items that were originally contained within the Ripper
police files. The image shown above is from a photograph taken before the loss.
On this day in 1932,
Tata Airlines
made its first flight. Tata Airlines
later changed its name to the less lascivious
Air India
.
It wasn't until 2003 that
Hooters Air
took off.
On this day in 1966, the
Black Panther
Party
was created by
Huey P. Newton
(l) and Bobby Seale
(r).
On this day in 1969,
the Moratorium to End the War in Vietnam
was held
in Washington DC and across the US. Over 2 million demonstrated nationally;
about 250,000 in the nation's capitol.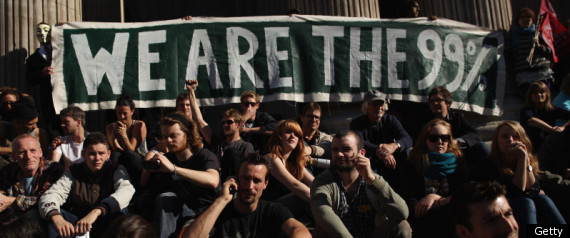 On this day in 2011, the 15
October 2011 global protests
, inspired by the Arab Spring,
the Spanish "Indignants", the Greek Protests and the Occupy Wall Street movement, were
held in more than 950 cities in 82 countries. Some protests were only a few hundred in
number, whereas others numbered in the hundreds of thousands, with the largest in Madrid
numbering half a million.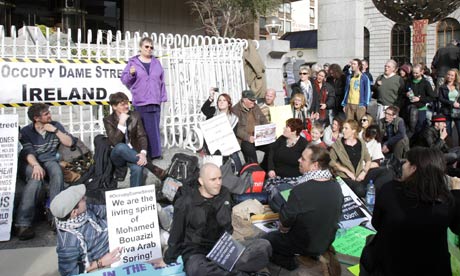 In Ireland protests were held throughout the country, including in Dublin
and Cork. What The Irish Times described as "well-humoured protest" marched
on the Department of Finance in Dublin with a low-key Garda (police) presence.
Protesters sat down on the street and chanted against the EU and IMF troika. The
"Occupy Dame Street"
protest, set up outside the Central Bank of Ireland in
solidarity with the Occupy Wall Street movement in New York, also continued
throughout the day.
In the US, as police prepared to evict
Occupy Wall Street
protesters from Zucotti park near Wall Street,
the protesters marched into the heart of the city where they gathered 10,000 supporters. 70 were
arrested, 45 in Times square and 24 at a branch of Citibank. Protests also took place in Washington,
Boston, Philadelphia, Los Angeles, Chicago, Miami and Dallas.
Born This Day

:
70 BC –
Virgil
(center, flanked by Clio, muse of history, and Melpomene,
muse of tragic and lyric poetry), who said:
Let us go singing as far as we go: the road will be less tedious.
1844 –
Friedrich Nietzsche
, who said:
God is dead! God remains dead! And we have killed him.
How shall we comfort ourselves, the murderers of all
murderers? What was holiest and mightiest of all that
the world has yet owned has bled to death under our
knives: who will wipe this blood off us? What water
is there for us to clean ourselves? What festivals of
atonement, what sacred games shall we have to
invent? Is not the greatness of this deed too great
for us? Must we ourselves not become gods simply
to appear worthy of it?
1858 –
John L. Sullivan
1906 –
Victoria Spivey
(right, with Blind Boy Grunt)
http://youtu.be/pKGuHCWWYU0
1912 –
Nellie Lutcher
http://youtu.be/Sm02YKi6rOc
1938 –
Fela Kuti
http://youtu.be/h4AA6EuZe-k
Died This Day

:
1917 –
Mata Hari
http://youtu.be/UNinzamNV7I
1946 –
Hermann Göring
, who said (in 1937):
We will go down in history either as the world's greatest statesmen or its worst villains.
1964 -
Cole Porter
, who said:
He may have hair upon his chest but, sister, so has Lassie.
1979 -
Gus Cannon
(left, with Cannon's Jug Stompers)