Furry Pogues
Publication: Drop-D Magazine
Date Printed: April 18, 1996
By: Dan Carle
The release of their new album Pogue Mahone officially confirmed the age of the Furry Pogues.

The "boozy, brawling, myth-making reveries" of the past have given way to classic pop and garbage folk and a sound more reminiscent of the Psychedelic Furs than the Levellers, a band of their genre. The Pogues -- RIP -- are not with us any longer.

The 13-track Pogue Mahone features a ho-hum assortment of songs sung to an ordinary heard-it-a-million-times folk beat. One track, the sappy "Love You Till The End," is the stuff of simple pop -- simple lyrics, nice beat, alluring background vocals -- crooned by Spider Stacy, the man now charged to lead the previously hard-charged Pogues, with a distinct voice contently Psychedelic. Stacy's tone and range is at times a carbon-copy of Richard Butler, the gravelly-voiced Dylan wanna-be lead of the early 80's Psychedelic Furs, who gave us the forgettable "Pretty in Pink" and other amnesia-inspiring musical works.

There was a time not long ago when The Pogues symbolized angst - they were the musical voice of the underprivileged -- and were led in song by what looked to be the King of the Underprivileged. But Shane MacGowan -- short, gapped-toothed, funny looking, liked his beer -- departed as the band's leader mid-way through the Hell's Ditch Tour in 1991; according to a Mesa/Bluemoon Recordings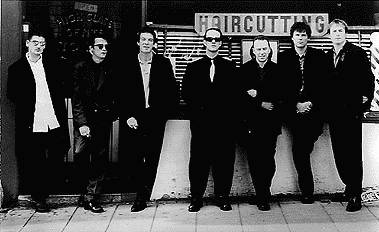 media relations officer MacGowan "could not perform his job" while on tour, meaning, essentially, he was too hammered. Stories of his alcohol abuse are legendary, while the story of the band's recovery since his departure has been less than memorable.
The band's first effort AM (After MacGowan) was 1993's Waiting for Herb, a musical assortment of something even less special than Pogue Mahone, which isn't anything special. But word is the college crowd likes the new Pogues sound. The fact that many of them are too young to remember how the band was means we can all look forward to more of the sanitized same in the future.
The Pogues are each obviously polished musicians; that much shows through the veil of obvious commercialism in Pogue Mahone. But MacGowan's departure spelled the end of a reputation which Stacy cannot preserve. No angst. No identity. Nothing memorable.
The album title means "kiss my ass" in Gaelic. In the changing 90's, the formerly hard-driving Pogues have gone furry. So what is the translation for "anyone for tea?"
---
Copyright 1989 NME All rights reserved
---

---
Your intrepid maintainer is DzM.